Third Quarter Product Updates with 5 Featured Enhancements Supporting Collaboration on the Procore Platform
In 2017, the UN estimated that over the next 40 years, 2.5 trillion square feet of new construction will need to be built globally to meet population growth and urbanization expectations. Construction at this rate would be roughly equivalent to building a city the size of New York City every month.
Innovation and acceleration are critical in keeping up with the global demand for construction. With this in mind, Procore has built a connected platform for the future. Not only are your teams connected, but so are your technology and workflows. Over the past 90 days, we've delivered multiple updates to the Procore platform that further deliver on our mission to connect everyone in construction on a global platform.
Here are five featured enhancements that support mobile innovation and collaboration.
Procore's ERP Connector Platform Improves Real-Time Decision-Making
The Construction Cost Management Report by Dodge Data & Analytics in partnership with Procore reported that "understanding in real-time where we are making or losing money," is a top challenge for construction professionals in both the public and private sectors, specifically when it comes to the disparity between field and office teams.
Understanding the health of a construction project requires accurate and timely financial information. With the constant stream of changes that occur on any project, it's difficult to keep your account teams synced with your project team's management tools.
Procore's new ERP Connector platform connects the entire project team with real-time financial data, so your teams can make the best decisions for your project. The benefits of these connectors are:
Improving decision-making capabilities with real-time project cost data. Provides both your project and accounting teams with immediate access to accurate and timely project information they need to be successful.
Building confidence that your data is accurate and free from errors. Helps to eliminate the risk of data integrity issues that arise when teams are required to manually enter data into two different systems.
Facilitating collaboration and participation by supporting how and where team members work. Project teams can enter data any time, anywhere, through Procore. And accounting teams can work in the corporate accounting system.
"I can't emphasize enough the value of the integrations," said Al Nover, Facilities Finance and Contracts Manager at Boston Children's Hospital. "They allow the PMs to have all the info they need in their own solution, but also give us confidence that we're synced with the hospital's corporate ERP and capital planning systems. There's no manual entry, it's synced with the general ledger, and it's accurate."
Along with launching the ERP Connector platform, Procore also launched two new Procore accounting integrations for Sage Intacct and Yardi Voyager, with more on the way including Acumatica, MRI Platform X, and Xero. There are already 40+ ERP integrations on the Procore App Marketplace.
Notifications and Change History on Action Plans
Action Plans creates an environment where delivering on quality and safety plans are effective and streamlined. This solution supports quality teams around the world with a truly collaborative tool for executing Inspection Test Plans (ITPs), allowing teams to move quickly without compromising on quality. We recently released the ability to track change history in Action Plans, enabling users to see when changes were made and by whom.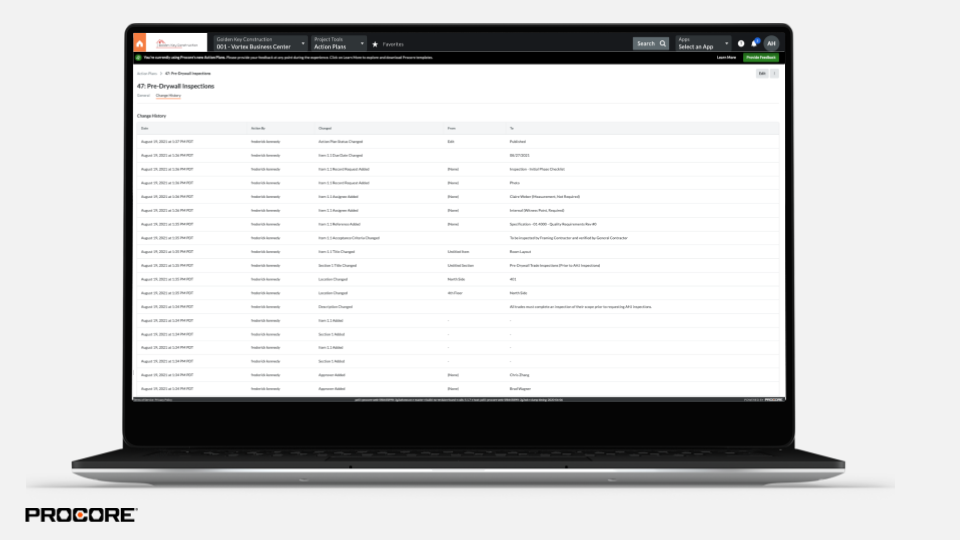 Pair change history with the added notifications functionality to fully optimize all Action Plans has to offer. Notifications help create awareness and accountability amongst your teams through mobile devices.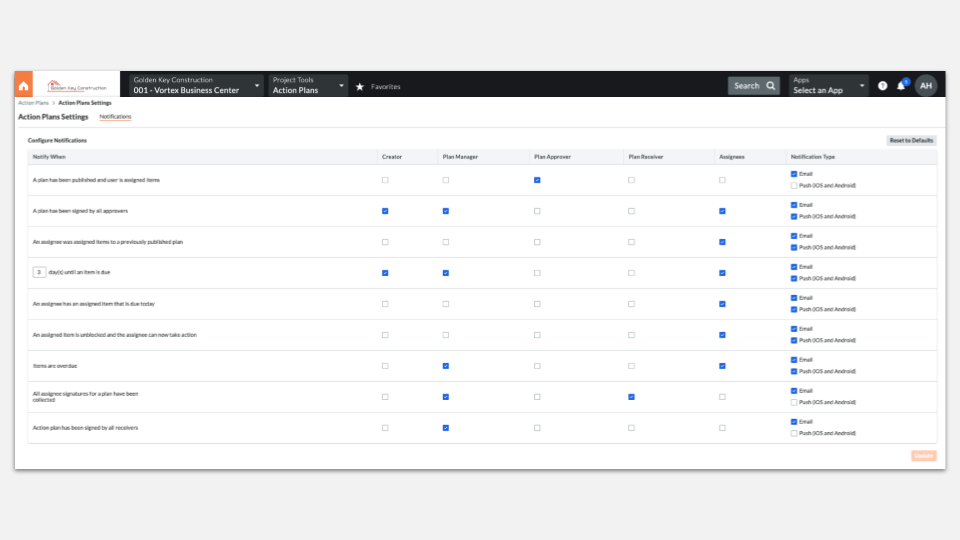 2D Dynamic Views Brings Innovative BIM Updates to Field Teams
2D Dynamic Views allows field teams to see specific dimensions of objects in 2D from the 3D model with a tap of the screen. This innovative new feature is now available on iPhone and iPad, giving your teams the ability to measure with accuracy up to one-eighth of an inch.
"Having access to elevation drawings, on-the-fly, in Procore, is just one more tool that enables me to do my job more efficiently." – Josh Soules, Foreman, North Mechanical Contracting.
New functionality allows you to take it a step further; see the precise area you are measuring over with the magnifying glass and adjust or edit measurements after they have been created. Additionally, dynamic measurements now respect blockouts, which can be selected just like model objects. Now teams can create detailed annotated lift drawings on-the-fly in the field, so they never miss a blockout, embed, or sleeve again!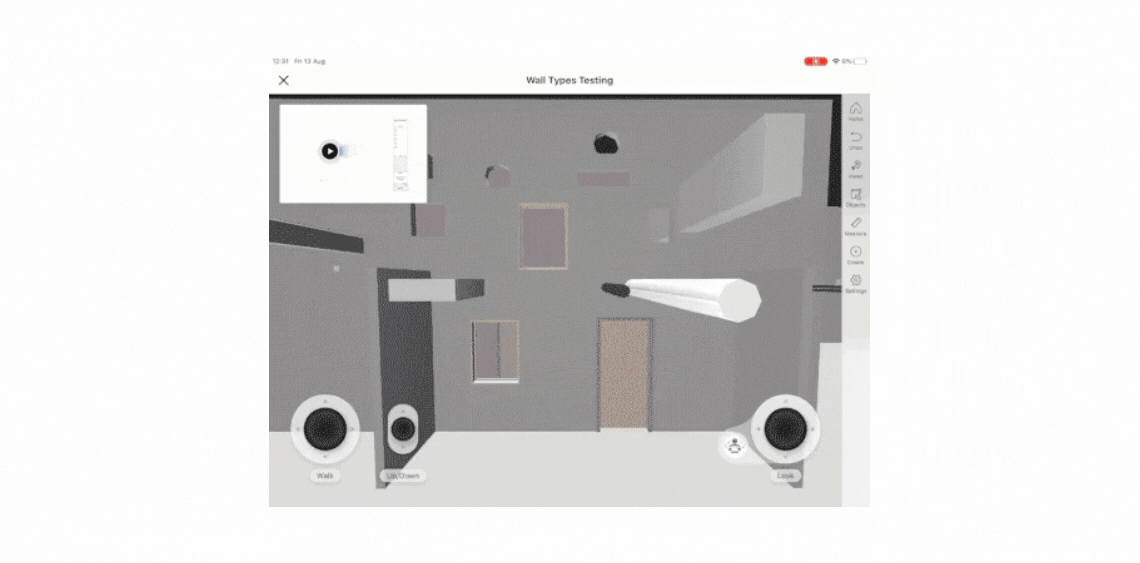 Customize Procore and Collect the Data You Need With Custom Fields Across the Platform
Leverage the flexibility of the Procore platform to meet the customization needs of every project. Standardize forms and create consistency across projects to produce valuable data needed to build better for the future.
Configurable fields have been added to tools like MyTime, Timesheets, and T&M Tickets. This added flexibility allows company admins to standardize data entry for timecards and capture all relevant information for out-of-scope work.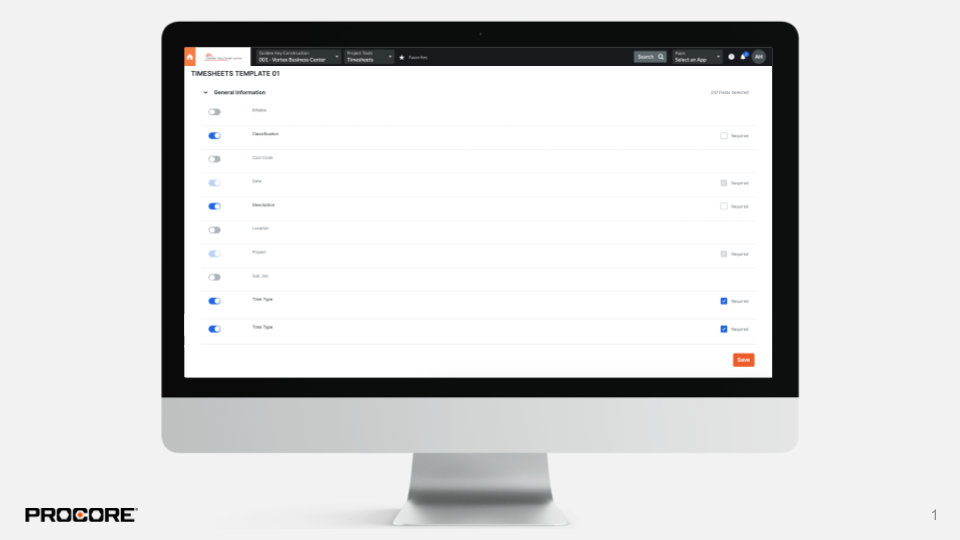 Custom fields on Project Financials provides the flexibility needed to standardize the data entry process. Company Admins are now able to define which fields are Required, Optional, or Hidden on Prime Contracts, Subcontracts, and Purchase Orders, individually.
Increased flexibility has been added to Quality & Safety tools. Punch, Incidents, and Observations tools all have new custom fields allowing your teams to capture the information most relevant to each project.
Click here to see what tools custom fields is available on.
In order to gather learnings from project data, you must first have consistency and standardization in data entry.
Deliver Profitable and Predictable Projects With Procore Preconstruction
In June, we announced some big updates to Procore Preconstruction. We've built into the platform a solution that's designed to better connect Preconstruction and Construction teams so every project gets off on the right foot.
"Superintendents and field teams understand how logistics and pricing was performed during preconstruction so they can build what was originally intended," says Curt Giebeig, RA-Lin Associates.
We've connected estimating into our change management process, making it easy to price potential changes and push those estimates into the budget with a single click. This allows project managers to move fast, ensuring that changes have a minimal impact on project risk or schedule.
Save time and avoid errors with Procore Estimating's new 'weight' as a unit of measure. Specialty Contractors like concrete and site prep can save more time during takeoff with the new weight unit of measure. Users are also able to transform other units of measure (ie. area/volume) to weight!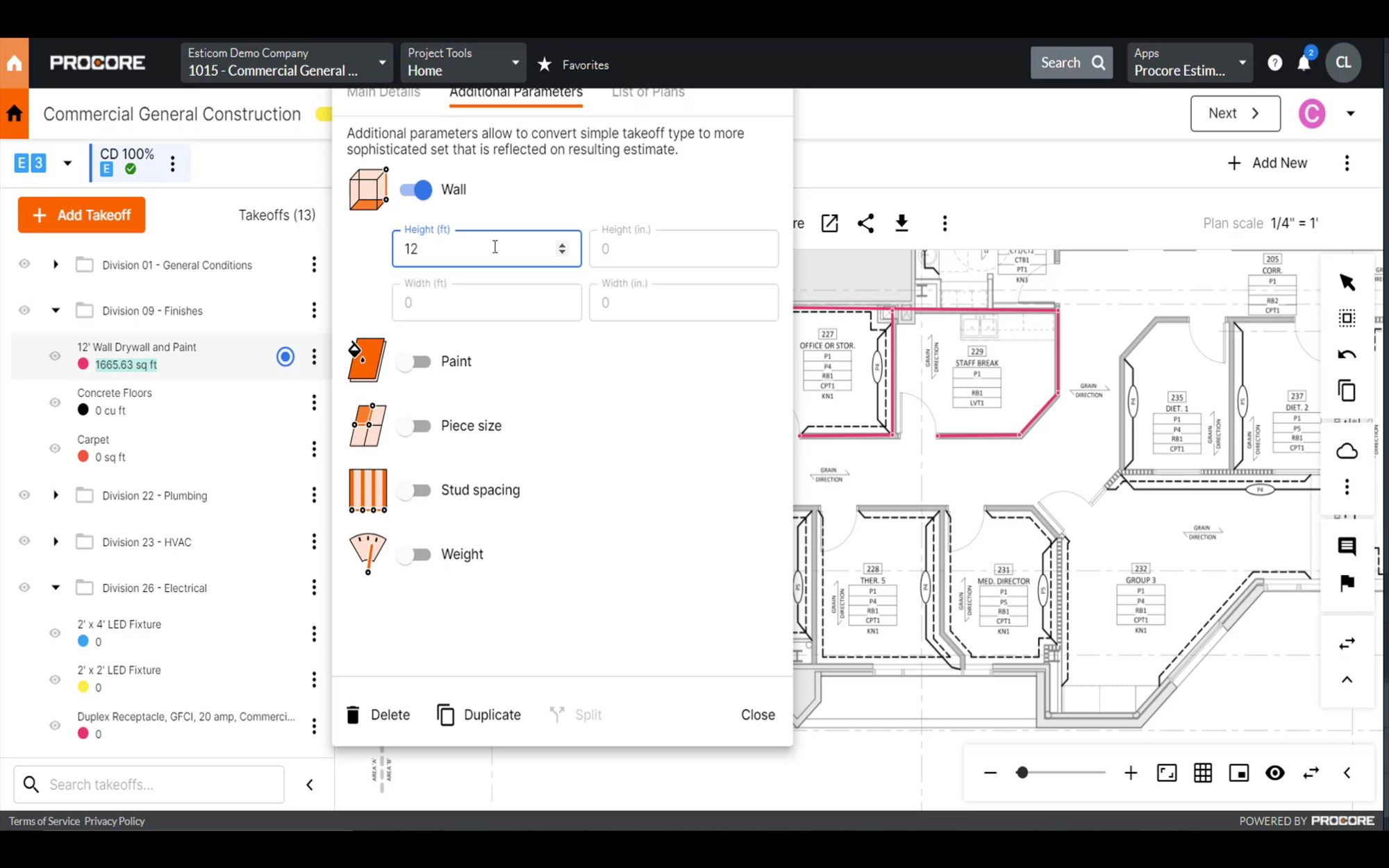 The newly redesigned bid sheet provides teams with visibility into each bid, plus two new pieces of functionality: the ability to both edit and delete cost codes directly within the bid sheet. Additionally, users can now export bid sheets into a CSV file, giving you additional options to analyze bids in Excel or other tools.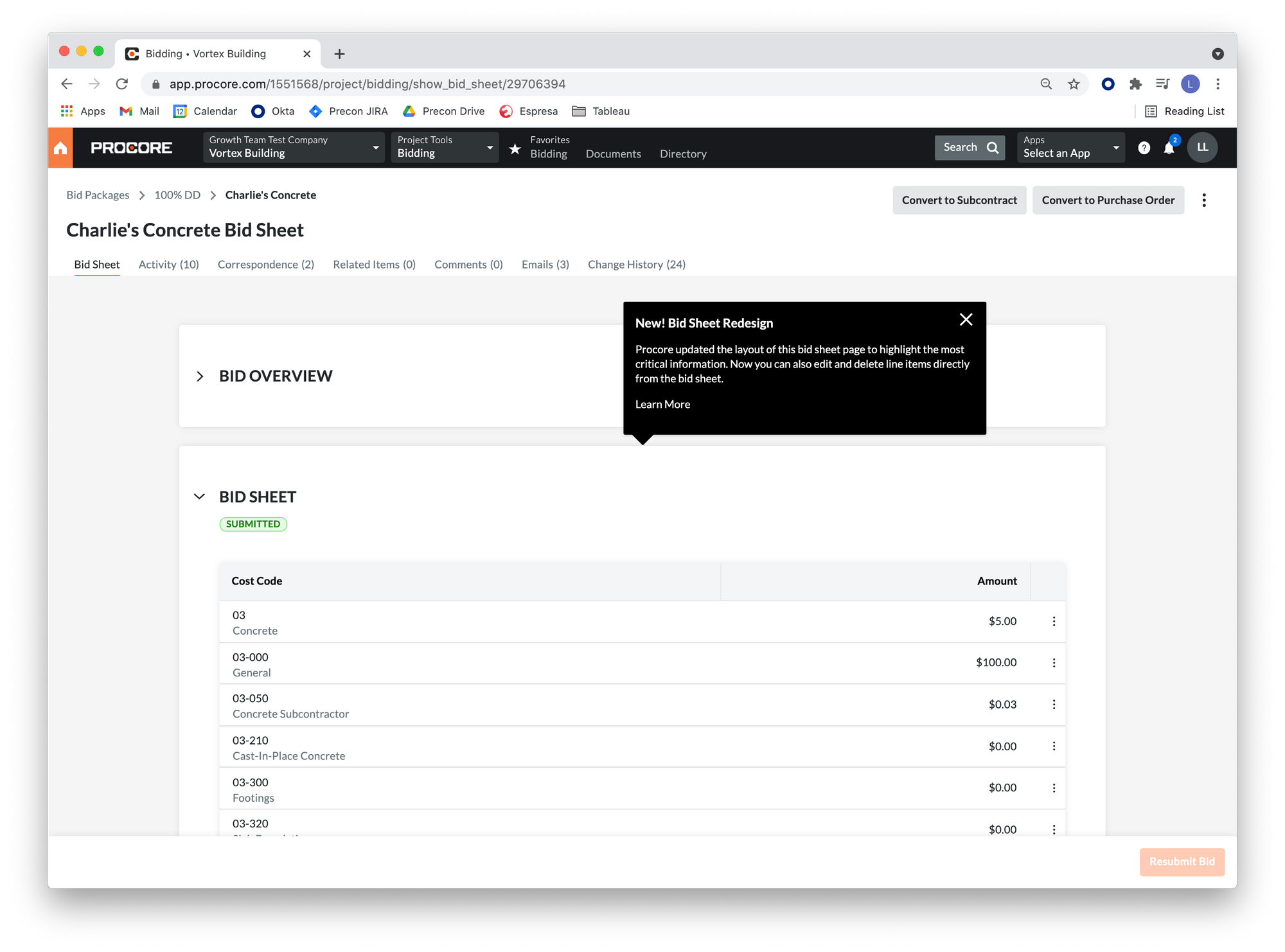 Procore is committed to perfecting our connected platform to support the construction industry's acceleration. See all enhancements from Q3 2021, and keep up to date with all release announcements at What's New in Procore.
Interested in learning more about how construction leaders are using the Procore platform to drive positive results in their business during a year of unprecedented challenge? Review Unlocking the ROI of Construction Technology and download the full report.